Life as an international student at «Grigore T. Popa» University of Medicine and Pharmacy of Iasi, Romania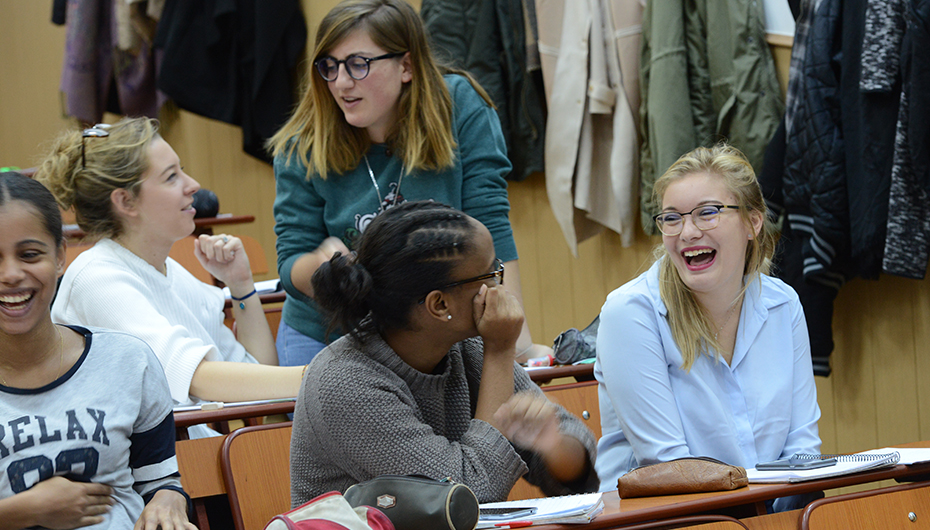 One third of our students are international: at the moment, the University accommodates 8806 students, out of which 2565, coming from 78 countries, study in English and French.
Due to the COVID-19 crisis, its wide corridors are deserted and the University, which is usually dominated by a vibrant multilingual hum, is now silent and sober, like an abandoned cathedral. But this is temporary. This coming autumn, the University will reopen its gates to receive its sons and daughters and, after navigating through the uncertain and ever changing environment, the reunion will be sweeter than ever.
After a semester in which the entire teaching activity and the assessment process took place online, the focus shifted to the admission process, both for Romanian and international students. For the latter, for whom the admission contest is carried out on the basis of the candidates' selection file, the online registration period began on May 1. Initially, they could register online until July 20, but the University management team decided to extend this deadline: "A large portion of the foreign candidates have complained that baccalaureate exams in their home countries are being postponed and that they do not have enough time to apply to our University. Because we wish to give everyone an equal chance, we decided to extend the registration period until August 31. Our University has been, for many years, a real Tower of Babel, with 2565 foreign students from almost 80 countries. It is a multicultural space, where the focus is put on study and practical activity, a space located in one of the most attractive cities in Romania. I believe that none of our foreign students have ever regretted choosing to study here. Moreover, they became part of the family and Iasi became their second home. Thus, we are waiting «at home» for all those who want to pursue their undergraduate studies at «Grigore T. Popa» University of Medicine and Pharmacy of Iasi, Romania" said the Rector, Professor Viorel Scripcariu.
The country where most of the international students come from is France, with almost 700 students. The charm of the city, its lower cost of living compared to other countries and the quality of the educational act are the main reasons why «Grigore T. Popa» University of Medicine and Pharmacy of Iasi remains a relevant choice for most foreign students.
But there is another reason: the commitment of international students studying here to help their future colleagues with all the necessary information and the role of student organizations, such as EMSA Iasi (European Medical Students' Association) or AMSFI (Association des étudiants francophones en médecine générale et dentaire de Iași), which are extremely involved in both the lives of students and the community.
Here are some testimonials from international students who briefly explained what led them to choose «Grigore T. Popa» University of Medicine and Pharmacy of Iasi, Romania":
Hanane SHIMI (France), Faculty of Medicine– French section, 3rd year:
"Immediately after completing my studies as a midwife in France, I decided to study medicine. My thirst for learning and my curiosity pushed me forward and helped me find the right solution for my training as a future doctor. The countless positive reviews, as well as the quality of the students' life, motivated me to submit an application to the University of Iași. I have absolutely no regrets, because I found everything I dreamt of: a university that is gradually modernizing and encouraging us to be autonomous. It offers a direct approach to the hospital environment, due to its location near the university hospital. We are able to learn at the patient's bedside, a considerable advantage. This university is an example of multiculturalism, which creates a perfect balance between practice and theory. I do not regret this choice at all."
Olivier Samano (France), Faculty of Medicine– French section, 4th year:
"First of all, I made the decision to study medicine here because France denied me access to this type of career and, for that, I am already extremely grateful to Romania. Then I had to choose the university. I was undecided whether to go to Cluj-Napoca or Iasi, but I already had a friend who studies here and I chose Iasi, because I found it much more welcoming and pleasant. And, so far, I have absolutely no regrets!"
Anastasia Balta (Greece), Faculty of Medicine – English section, 4th year:
"I came to Iasi without any knowledge of the city or any recommendations, based only on instinct and my own research. So far, I think I was right, because UMF Iasi offered me high quality education, an immersion in different cultures and solved very quickly and efficiently any problem brought to the attention of the management team, even in the current coronavirus epidemic. This university has offered us, international students, the opportunity to fulfill our dreams and I would definitely recommend it to future generations."
Pundrik Kaur (Norway), Faculty of Medicine – English section, 5th year
"I have always dreamt of becoming a doctor. I had some friends who were studying at UMF Iaşi and who encouraged me to come on a visit and see the university. I was surprised that the city had its own airport. Also, Romania, compared to other European countries, has lower tuition costs and a much lower cost of living. So, before coming to Iasi, I worked during the holidays and managed to raise enough money to study and live here. There are also a lot of flight connections between Romania and other European cities, which facilitates the trip home for any special occasions. "
Jyoti Anafack (Switzerland), Faculty of Medicine – French section, 6th year
"I have always wanted to study medicine. I'm from Switzerland, so obviously I went to the University of Lausanne, where I failed and wasn't able to resume the year. But medicine remained my passion and I did not let this failure get in my way. So I searched everywhere and found out that Romania has medical universities with French sections. Through a little research, I found out that Iasi and Cluj have the best medical schools. I applied to both, but as one of my friends was going to Iasi, I decided to come here too. And I am very happy with my choice. The city is full of energy, of young people, and the University offers good quality education."
 Amata Thongphetsavong Gautam (Switzerland), Faculty of Medicine – French section, 6th year, president and co-founder of EMSA Iași
"I have always dreamt of becoming a doctor and I would have done anything to follow my dream. Romania was one of my many options. However, a friend of mine from Cluj told me about the Romanian educational system, which is based a lot on practice and active involvement and with an equal amount of theory and, for this reason, I chose Romania as the right place to pursue my dream. One of the main reasons is that here, if you study hard, you get good results, while in other Western European countries it is more about selection and reducing the number of students… they do not have a pre-selection process and this can be very misleading and frustrating. Personally, I am extremely grateful for this huge opportunity to study here, even if things may not be perfect. What matters most is that its leadership knows that things are not perfect, but at least it strives and makes efforts to achieve perfection, and this is wonderful. I am very grateful for the relationship I have with the Rector, Professor Viorel Scripcariu, who is open and willing to listen, who tries to help us and to always improve things. As president of EMSA Iasi, I was lucky enough to deal with a series of extraordinary people from the management team, from the secretariat, administration office, Dean's office and Rector's office. With the upcoming graduation I really need to say «Thank you!»"
2565 students from 78 countries
8806 students are studying at «Grigore T. Popa» University of Medicine and Pharmacy of Iasi, Romania, out of which 6242 Romanians and 2565 international students. Foreign students come from 78 countries. Most of them come from France – 653, followed by Israel – 599, Morocco – 293, Greece – 189, the Republic of Moldova – 187 and Tunisia – 151. International students have 565 places, distributed as follows:
English section: 200 – Medicine, 70 – Dental Medicine, 45 – Balneology, Physical Therapy and Medical Rehabilitation
French section: 150 – Medicine, 100 – Dental Medicine